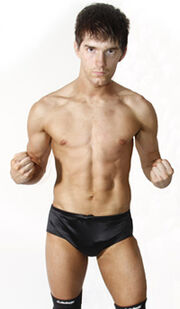 Steven Edens is an american professional wrestler currently working for Extreme Fanfic Wrestling.
Extreme Fanfic Wrestling
Edit
Steven Edens began his wrestling career in EFW the night after Hardcore Hellhole, defeating MARKK by pinfall. The following week, Edens was challenged to a match at Chaos by Caeden Farrell, which Edens accepted. At Chaos, Farrell beat Edens. Edens next appearance was as part of a 20 man Royal Rumble, which he was unable to win. The following week, he came out issuing an open challenge to anyone on roster, the challenge was answered by Devil Child, asking for it to be a Roulette Match, Edens accepted. The following week, Edens challenged Duke Jackson for the EFW Hardcore Championship, Edens lost the match, after the match, Devil Child said that he slipped a stipulation into the contract, if Edens was to lost, he would have to retire. At No Man's Land, Edens won the roulette match, allowing him to keep his career. The following night, Edens was hand picked by Xander Taurus to be an entrant in a 20 Man Royal Rumble at Endurance, the winner would get a shot at any title they want at Summertime. At Endurance, Edens entered number 4 in the rumble and was able to win the Rumble, last eliminating Tony 2 Times. The following night, Edens challenged Joseph Winters to a match at Summertime for the EFW Zero G Championship. The following week, Edens challenged Tony 2 Times to a match, Edens was able to win. At Summertime, Edens failed to beat Winters and didn't win the Zero G Championship. Edens suffered an injury in the match and was placed on the sidelines until September. When he returned, he challenged Jason Cage to a match for the Hardcore Title at Urban Brawl, which Jason accepted. At Urban Brawl, Edens failed to win the Hardcore Title. Over the next number of months, Edens didn't compete at PPV events, until he appeared at the Halo event in the Halo Match, entering number 20 until he was eliminated by Curtis Extreme.
In Wrestling
Edit
Finishing Moves:
Crossface
Sweet Dreams(Headlock Driver)
Triangle Choke(Used Rarely)
Signature Moves:
Tornado DDT
Snap DDT
Entrance Music:
"Feel so Numb" by Rob Zombie
Entrance Pictures
Edit