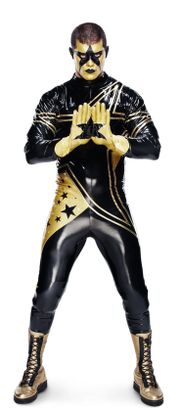 Powerline
is a Canadian wrestler, currently signed to Extreme Fanfic Wrestling.
POWERLINE

Some attributes

First
Height = 6"4
Second
Weight = 241lbs
Third
Hometown = Montreal, Quebec, Canada

Other attributes
Extreme  Fanfic Wrestling
Edit
Powerline made his debut in the opening round of the EFW World Championship Tournament, where he defeated Laughing Leonard after an interference from Thunder Long. In the second round, Powerline defeated Thunder Long in a falls count anywhere match after spearing him through the glass door. In the semi finals, Powerline took on his tag partner, Thunderbolt and MARKK, Powerline lost but Thunderbolt was pinned, meaning Powerline would compete in the finals and Thunderbolt would be eliminated. In the finals, Powerline took on MARKK in a ladder match, in a winning effort after hitting a Maple Leaf Leap from the top of the ladder, making Powerline the first EFW World Heavyweight Champion. The following night, Powerline competed in a 6 man tag team match, teaming with Thunderbolt and the debuting Joseph Winters to face MARKK, Jack Threlfall and Thunder Long (Hinting a heel turn for Long) in a winning effort. 2 weeks later, Powerline teamed up with Thunderbolt (Causing the official debut of Team Electric) to face MARKK and Jack Threlfall, in a losing effort. The following week, Powerline suffered his first singles loss when he faced the undefeated Hunter Blakesfield. At Supremacy X, Powerline defended the World Title against MARKK in a singles match with MARKK's manager, Kevin Stang, banned from ringside. The following night, Powerline won a match against Thunder Long, and was confronted after by Bruiser Bencia, who was returning from an Injury, Bruiser was then attacked by the debuting Tony 2 Times. At Hardcore Hellhole, Powerline lost the World Title to Thunder Long in the weapons gauntlet. During the match, Powerline suffered an ankle injury and was pulled from EFW until he recovered. At F.O.F Powerline returned from injury, confronting the World Champion, SGT Hardin about his controversial title win.
In Wrestling
Edit
Finishers:
Canadian Neckbreaker
Canadian Backbreaker
Maple Leaf Leap (Diving Elbow Drop)
Signatures:
Double arm underhook suplex
Spinebuster
Tag Team Finishers (With Thunderbolt):
Circuit Overload (Maple Leaf Leap from one corner by Powerline combined with a 450 Ssplash from the opposite corner by Thunderbolt)
Entrance Songs:
Electric by Anna Margret & The Nevermind
Entrance Picture
Edit
Championships and Accomplishments
Edit
EFW World Heavyweight Champion (1 Time)
EFW World Championship Tournament winner (1 Time)