Furious Frye is a Mexican Wrestler, currently signed to Extreme Fanfic Wrestling.
Furious Frye

Some attributes

First
Height = 6"0
Second
Weight = 200lbs
Third
Hometown = Tijuana, Mexico

Other attributes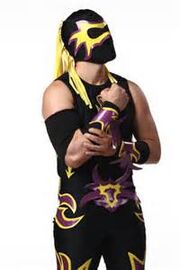 Extreme Fanfic Wrestling
Edit
Fyre made his debut on the second edition of EFW, alongside his Team Mexico partner, Dark Hado, who lost a singles match to Shogun Yanai with Frye at ringside. The following week, both men competed in a 15 man, Zero G battle royal but both were unsuccessful, the winner was Duke Jackson. Frye competed 3 weeks later, answering the open challenge set by EFW Zero G Champion, Demonic DJ and was successful. At a press confrence, Frye was confirmed as the 5th entrant in a 15 man battle royal (The first four being Devil Child, Giant Guppy, Barberino and Randy Newton). At Supremacy X, Frye was unsuccessful in winning the battle royal, the winner was Newton.
In Wrestling
Edit
Finishers:
Deep Frye (Spinebuster Backbreaker)
Signatures:
Headscissors Armbar
Yoshi Tonic
Entrance Music:
Entrance Picture
Edit